The Winter War tour guide app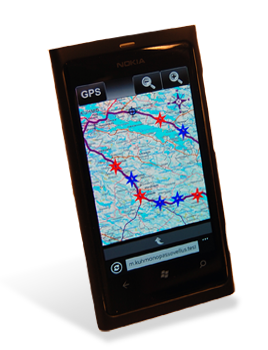 The Winter War tour gives guide app you a tour of the most important Winter War battlefields on the Kuhmo front and other relevant sites on the Kuhmo Winter War tour. The guide app utilises the user's location data. It requires a GPS- capable terminal device and activation of the current location function.
When you approach an intersection area of main roads, a battle site or another Winter War tour site, a sound will signal the approach and activate the sound file on the site. If your terminal device does not give an audio presentation on the site, you can manually access the written information by selecting the green information icon. However, this will not include intersection signals. If your terminal device is not GPS-capable, the app can still function as a manually-controlled digital map and database. In this case, you must take care of the location data with the help of the guide app's map and road signs.
Due to closeness of the border zone and other data-network blind spots, it is advisable to download the guide app on your terminal device beforehand using a reliable connection to ensure that it will also be available while offline, without an internet connection, under certain conditions. The file size of the app is 17 Mb. An uninterrupted data connection is required during the download.
The tour sites are represented on the app maps by symbols. The general map shows you where you can join the tour, allowing you to choose your route if there is not enough time for the complete 120-kilometre tour and connected sites.